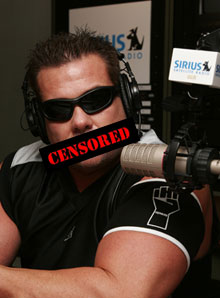 Just hours after Bubba announced that he would be staying at Sirius for another year the St. Petersburg Times are reporting that Bubba will be broadcasting on Cox Radio stations in Tampa and Jacksonville in a deal valued at seven figures. This will mark Bubba's first return to the airwaves since he was fined $775k and dumped by Clear Channel almost 4 years ago!
Starting Jan. 8, Bubba will take over morning drive slot on WHPT-102.5 FM (The Bone) in Tampa and WFYV-104.5 FM in Jacksonville, hosting a show from 6 a.m. to 10 a.m. After which he will broadcast his show as normal on Howard 101 from 3-7PM Est.
"I want to do both (free radio and satellite), because I have a lot of unfinished business in the market," said Clem, calling by cellphone this morning from New York City, where he celebrated his new deal with Sirius on boss Howard Stern's radio show. "I never got to say goodbye to the fans. I was thrown off the air by Clear Channel -- which hung me out to dry."
I must say that I am truly shocked that Sirius is allowing this to happen. One has to wonder if Bubba will still be as good as he previously was after 4 hours on the terrestrial airwaves in the AM.