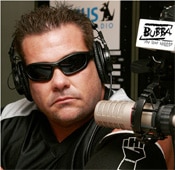 No, I am not talking about Bubba's waist line... I am referring to his terrestrial radio audience. In a time when many terrestrial radio stations are seeking formats that make business sense, Bubba The Love Sponge seems to have the answer. The terrestrial radio version of the Bubba The Love Sponge show is expanding into four new markets. This means that millions more can hear the antics of Bubba, Brent, Ned, Manson and Spice. The new markets will be added January 5, 2009. Additionally, the expansion could continue in the near future.
Bubba, who has coupled a terrestrial radio gig along with Sirius over the past year, will be adding stations in Miami, Orland, Richmond, and Ft. Meyers to his terrestrial radio resume. The terrestrial radio shows are separate from the Sirius show, which helps alleviate censorship concerns for all parties involved.
There has been speculation that Bubba's presence on satellite may be in question. I do not subscribe to that theory. All indications I have heard lead me to believe that the relationship between Bubba and management, which was strained and tested last year at this time, is better than ever before.
Given that Bubba is number one in Tampa, number two in Jacksonville, and is on one of the most popular satellite radio channels, it is hard to comprehend how Bubba would not get another deal done on satellite. In addition, with BEST OF programming, Sirius XM has about 9.5 million XM subscribers to market to. I would look for positive Bubba news on satellite sometime in the next two weeks.
The longer the wait, the more impatient fans will become. Get the deal done so that it can be marketed as content to new listeners as well as XM subscribers. Bubba adds value to the BEST OF option for XM subscribers. Get him signed, sealed, and delivered, and turn him loose on a brand new BEST OF marketing campaign.
[FMQB]
Position: Long Sirius XM