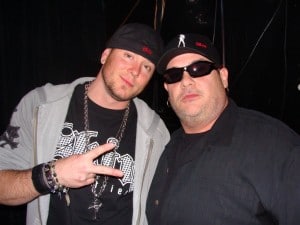 As the merger between Sirius and XM heats up, Sirius has another hot button issue to deal with. Bubba The Love Sponge. The Shock jock can be found on Sirius' 101 in the afternoon, and is one of the staples of the Howard Stern programming line-up. Bubba The Love Sponge is known for receiving the highest ever single FCC fine, and being blackballed from radio for almost two years.
Bubba is no stranger to satellite radio, having spent time on XM via a terrestrial radio feed prior to being pulled from the air as a result of indecency fines. Bubba came to Sirius via the Howard Stern deal which covered Stern himself, Sterns staff, studio construction, and a budget for programming and marketing.
The Stern channels have had many varied talents on the air, and Bubba is not the first to have contract disputes with Sirius. Although lesser known, Riley Martin, of alien visitation fame, has oft complained about his deal which has him on the air every Tuesday night at midnight. Stern has explained many times on his show that he suggests programming ideas for the channels, but ultimately, Martin, as well as Bubba have to work out their deal with Sirius.
How far apart the two sides are is unknown, as are the funds in the original budget for the Stern channel programming. For his part, Bubba readily admits that he came to Sirius for a "song", and hoped to show Sirius as well as Howard his value. The story rings out like a shock jock version of the movie Jerry McGuire, where a football receiver takes a one year deal for the league minimum, and sets out to prove his worth. At this point we have Bubba saying, "SHOW ME THE MONEY". Aside from Sirius, Bubba has several business interests including his website, BTLS.com, merchandising deals, and Bubba Raw, which airs video of content not played live on Sirius.
It can not be denied that Bubba has a substantial fan base. Web site Tracker Alexa has Bubba's website ranking at 40,023 and he is an afternoon staple for Howard Stern fans. His current deal has a bit over three months left, which puts Bubba trying to negotiate in the midst of a merger. One has to wonder whether or not the proposed merger with XM is playing into the mix here. XM satellite Radio has shock jocks Opie and Anthony as well as Ron and Fez on their system. Is there enough room in the merger mix for four shock jock shows? All are popular, and all have passionate fans, so there has to be a way to get a deal done. Unfortunately for Bubba, the primary focus of the brass at Sirius is merger related, and that decision is supposed to come before Bubba's contract expires.
In what may be posturing, Bubba has spoken of his frustration on the air and on his website (a controversial post was removed today). He has even said that he will go "Podcast Willy" (do his show via podcasts). Rumors are swirling that Cox, a terrestrial radio firm, is actively seeking to cut a deal with Bubba, but fans would much rather have the uncensored version on Sirius.
How this all plays out is yet to be seen, but one thing that is certain is that fans will express their opinions loudly.
Position - Long Sirius, Long XM