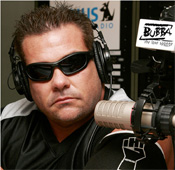 I was listening to the Bubba the Love Sponge show today, and to my dismay Bubba was not in the studio, a lot of the other characters were there but, where is Bubba? I did some digging around and it seems that the #2 shock jock in the world is being sued by an internet porn star.
Hope Miller, better known as Brooke Skye on her adult Web site, is asking for more than $15,000 in damages. Miller's lawsuit states that Bubba flew in another internet porn star to have sex with her on the show using a sex toy, and that Bubba did not tell Miller that he was planning to do this when she agreed to be on the show. Miller says the toy was too big, but despite her repeated objections, Bubba forced the sex act to continue. Her lawsuit says that the radio host berated her when she tried to back out and threatened to stop promoting her Web site.
I listened to the show in question and at no point did it sound like anyone was being forced to do anything against their will. On top of that Brooke Skye was on the show twice before, and she knew damn well what she was getting herself in to. Lastly she claims that Bubba threatened to not plug her website if she did not participate in the act. Are you kidding me? That is your defense? You were forced to do it because of plugs for your website? What is more important your own safety or a few plugs for your website? People do the most ridiculous stuff I have ever heard on this radio show, and let me tell you, no one is forced to do a damn thing.