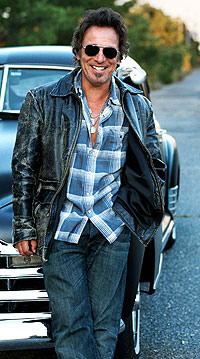 He is an American rock Icon. He career has spanned decades and he has several number one hits and platinum albums under his belt. He is Bruce Springsteen and his new DVD London Calling: Live in Hyde Park is being released today, June 22, 2010 on DVD and Blu-Ray. If a DVD of that concert gets your rock juices flowing, imagine what seeing the movie on the big screen would do! Read on for details on how to win tickets to a theater near you.
To celebrate the June 22 release of Bruce Springsteen & the E Street Band's London Calling: Live in Hyde Park on DVD and Blu-Ray, SIRIUS|XM and Emerging Pictures are giving fans the chance to see the new concert film on the big screen. A 90-minute version of the film will be showing at art house cinemas around the country, with box office proceeds going to the Danny Fund/Melanoma Research Alliance.
Captured in London at the Hard Rock Calling Festival on June 28, 2009, the film conveys both the experience of being on stage and the vast crowd experience of the festival environment. Viewers are able to see Springsteen spontaneously directing the E Street Band and shaping the show as it evolves. The set list spans from "Born To Run" era to "Working On a Dream" and includes rare covers and fan favorites.
The concert earned rave reviews. The London Times called it "epic" and "a revved-up, three hour power drive through Springsteen's America." The Independent concurred: "Springsteen's intensity was staggering from first powerful vocal to final thrashed-out chord."
All you have to do is choose the city and date of the screening you'd like to attend and you'll be entered for the chance to win!
ENTER online only from 5 p.m. ET 6/9/10 to noon ET 6/28/10.