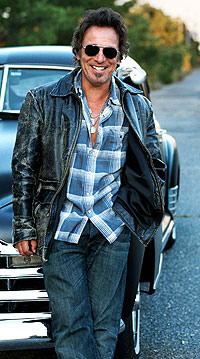 Bruce Springsteen will be guest hosting a special on E Street Radio, his exclusive commercial-free channel dedicated to the himself and the E Street Band. The Bruce Springsteen special will air on E Street Radio Sirius channel 10 and XM channel 58. This should come as no surprise as Bruce's new album "Working on a Dream" is slated for release on January 27th.
Bruce Springsteen sat down with Dave Marsh, to play hand picked from his personal record collection. The Boss will be sharing how he discovered each song and what he likes about the music in his commentary. Subscribers will hear Bruce playing a variety of music ranging from folk songs to contemporary music including hip hop and progressive rock. I have to admit that I will be tuning in just to hear what kind of "hip hop" is in Bruce's personal collection.
The first edition of the Bruce Springsteen guest deejay special is set to premiere on Monday, January 19 at 4 pm ET and will be rebroadcasting all month long leading up to the second special. The second edition of Bruce's guest deejay special will premiere on Monday, January 26 at 4 pm ET and will also be rebroadcasting all week long so get your stiletto ready.