Research In Motion (RIM) has announced a new concept in audio entertainment apps called "BlacBerry Radio". The all new app will be prominently featured in the BlackBerry store and feature content from Slacker as well as iheartradio and other streaming stations. The unique aspect of "BlackBerry Radio" is that it will act as sort of an aggregator of audio content from multiple sources all accessed under one umbrella.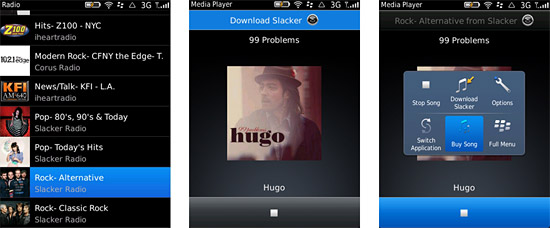 This news comes as Sirius XM Satellite Radio's Howard Stern is in the midst of multiple television appearances to promote the satellite radio company's apps on Android, iPhone as well as BlackBerry. Sirius XM is trying to make bolder moves in the app world, but even as of this writing their app is not available in BlackBerry App World, where most consumers would look to find it. Stern himself expressed frustration in the lack of company presence in the official BlackBerry site.
Perhaps the most interesting thing about the new BlackBerry Radio app is that it will seem to utilize the best aspects of the most popular Internet radio services. The absence of Sirius XM and another big name like Pandora will not go unnoticed. RIM's attempt at a combined radio experience could well fall short of the desired mark because it does seem to lack some of the preferred choices of consumers. However, it is an interesting step toward getting more than one choice under one umbrella. This could be a sign of things to come throughout the next year in audio entertainment. The current version is still in Beta testing.
Position - Long Sirius XM Satellite Radio - No Position Research In Motion
[Blackberry Blog via FMBQ]