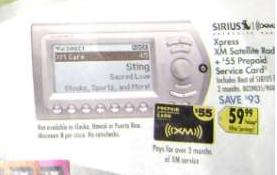 More and more information is coming out about Black Friday, the day after Thanksgiving when throngs of people wait in line all night to get a chance at some superb deals. With the economy the way it is this year, it will be interesting to see exactly what the consumer response is. So far, satellite radio is not a huge part of Black Friday, but here is the latest from Best Buy, Radio Shack, and Sears.
Best Buy
Sirius XM Xpress with three month subscription - $59.99
Radio Shack
SIRIUS SUB-2X Dock & Play Boombox - $49.99
SiriusXM Stratus Dock & Player + Car Kit - $19.99
Sears
Sirius Stratus Radio w/Car Kit - $24.99
Sirius Starmate 4-Radio w/Cat Kit - $89.99
Position: Long SIRI.