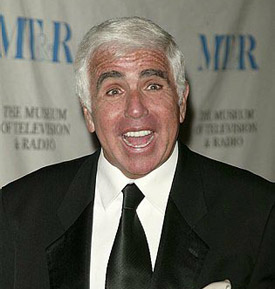 In this weekly guest post, Scott Spiegel shares his feelings about Sirius XM CEO Mel Karmazin.
Mel Karmazin didn't take President's Day off.  At least it doesn't seem that way.  Now that he, despite all the doubters, has outfoxed the vultures looking to pick from the decomposing carcass, that would have been SiriusXM, I honestly believe that the future is extremely bright for our dear entertainment company.
In my role (as a guest poster), I'm not really required to write that often (honestly, I am going for once a week).  But, after reading the comments,  to my most recent post, and in light of recent developments, I found myself inspired to voice my eternal support for Mr. Mel Karmazin.  However, in fairness, I must say, if the company had ended up filing for bankruptcy today, this post would never have happened.  Here's the deal though: by keeping the company afloat, in current economic conditions nonetheless, the man needs to be saluted.
What Mel Karmazin's detractors don't get, is that he is a RADIO guy.  When Stern and Chris Russo were discussing the whole financial situation last week (and every time, anyone associated with the company has ever discussed the manner, for that matter), what is the overriding theme?  Believe in Mel.  The guy UNDERSTANDS RADIO.  The one thing the non-believers aren't realizing: the people in charge at all the other radio companies, are clueless: they are the same ones who gave us the pathetic programming that led us all to Satellite in the first place.
Look, the guy's not perfect.  There are obviously things that I wish I could change about this beloved product, but it's clear to me, that Mel Karmazin is not only the best man for this situation...he's probably the ONLY person capable of fixing this mess.  If the merger had been approved in somewhat nearly an appropriate amount of time, the company would not be in this condition.  For all we know, Mel Karmazin might not have only staved off bankruptcy today, he might have just given a body blow to terrestrial radio, as well.
Scott Spiegel is a freelance writer based out of Houston, you can learn more about him at Scottyspiegel.com