AMTC has been busy signing up new accounts to SiriusBusiness, a service that allows business across North America to get the Best Radio On Radio. AMTC is a partner of Sirius, and markets SiriusBusiness. A couple of weeks back we highlighted several new businesses that have gotten Sirius. Now we can add two more to the list.

Baskin Robbins is the famous Ice Cream Company that uses a slogan 31 flavors. Perhaps it is only fitting that a company with such diversity in Ice Cream flavors would seek out satellite radio, which offers unprecedented variety in music. Baskin Robbins is owned by Dunkin Brands (Dunkin Donuts). There are over 5,600 Baskin Robbins locations globally.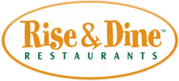 Rise & Dine is rapidly growing concept restaurant that specializes in serving the breakfast and lunch crowd. With fifteen restaurants in Florida and Ohio, the chain is beginning to take shape, and they see SiriusBuisness as a viable solution to meeting their background music needs.
The business service offered by Sirius prices out at $24.95 per month, a price point that many businesses find very attractive when compared to other services such as Muzak. While not widely known, it is unlawful for businesses to simply tune in a radio station for background music. This is viewed as a public performance, and royalties are required. With the RIAA on a warpath, more and more businesses are legitimizing their background music instead of facing stiff fines.
Position - Long Sirius