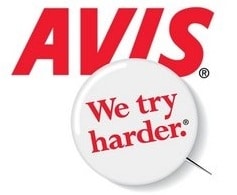 Over the last few weeks I highlighted news that Hertz was making a move on Dollar Thrifty, and how that move could benefit Sirius XM because of the revenue generation Sirius XM gets from Hertz on Sirius equipped cars in their rental fleet. Now, it turns out the Avis Budget was angling to make a deal of their own that they say was better than the Hertz offer. Avis Budget has now filed documentation with u.s anti-trust authorities under the Hart-Scott-Redino Act.
So does this change the landscape for satellite radio investors? Not really, but I didn't want SiriusBuzz readers to have concern or confusion as new headlines begin to stream if a bidding war between the Hertz group and Avis group occurs. Avis Budget is also a revenue generating rental deal, and the also market Sirius XM. Thus, there is little concern over which company wins the rights to buy Dollar Thrifty. In the end, rental brands that seem to do little for Sirius XM will be absorbed by brands that at least bring something to the table.
Position - Long Sirius XM Radio, No position rental companies.