Well, the auto sales figures for August of 2012 are in and once again, we have good news from the auto sector.  Headlines were generally positive, and the SAAR saw a substantial boost to about 14.5 million!  What is not to like?  While seeing the sales figures is great, it is the details that help us to determine how the information will impact the equity.
First things first.  Sales came in at a robust 1,283,850 units, on par with June of this year, which is typically a great sales month.  There were some interesting dynamics in August that bode well for the Q3 subscriber numbers, and this is a distinct reason why I feel management will raise guidance sooner rather than later.
Production - I noted early in the quarter that the plant closures we typically see in July were drastically reduced. This means that partners like Ford and Chrysler, that supply subscribers at production, were supplying more than would be normal.  That provides a lift.  The partners highlighted in green represent partners that supply subscribers at production.
Sales - GM saw a big sales month thanks in part to a big push during the widely viewed Olympics.  The manufactures highlighted in yellow provide subscribers at the time of sale.  This means that big sales mean big subscriber numbers.  More good news.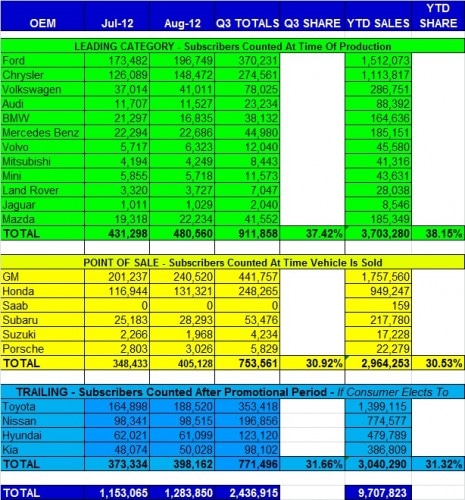 While there is plenty to be excited about, and I am sure investors have visions of another 622,000 subscribers in Q3, the numbers do make that a small but not insurmountable challenge.  In Q3 total sales were 3,801,607 with an average of 1,267,000 per month.  Q2 is pacing at 1,218,000 per month, or almost 50,000 less.  In order to match Q2, September sales would need to be a robust 1,365,000.  Reaching that number is not out of the question, but it is not a slam dunk either.  Realistically speaking, September will match August.  If that happens, new car sales would be about 80,000 units lighter than Q2.  The positive is that the used car channel is ramping up, and could very well fill that gap.
We are also seeing the trend toward a better balance between the leading, point-of-sale, and trailing categories, which is good.  In my mind SiriusXM should be raising guidance, because even if they report 575,000 subs, they will be right on top of the currently guided 1.6 million.