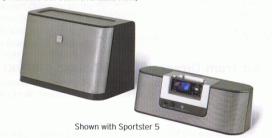 Somewhat lost in the shadows of the new Stiletto 2 and Sportster 5 was the nifty Altec Lansing Audio System (SR4021).  This new desktop system incorporates the Sirius Universal Dock, and thus is a perfect accessory for many Sirius plug and play units, and for stiletto users, it also acts as a charger.
The system's wedge shape can be separated or stacked to suit your needs, and is reminiscent of the wedge technology employed by speaker systems such as DCM.  The base of unit is actually the source for your bass, as it is a front firing subwoofer.  Stack the components, or hide the subwoofer, the choice is yours, and at a retail price of $149.99, great sound is well within the reach of a broad cross section of consumers.
In taking a look at the unit, I found that it delivered bot a rich sound as well as a rich style.  The clean and more elegant look of the Altec Lansing Audio system makes it a natural in the office or the home, and the ability to separate the components allows users to enjoy rich sound no matter how they configure it.  Consumers who step up to this accessory should be very happy with the look, as well as the sound. 
Position - Long Sirius