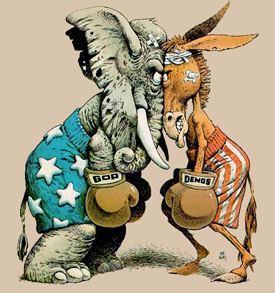 The political scene kicked off last week in Iowa and we highlighted XM's POTUS '08 channel. Now the political winds are blowing in New Hampshire, and Sirius Satellite Radio is right there to give you the latest and greatest news from the left as well as the right.
Sirius' political coverage comes to listeners through channels such a Sirius Left 146 , Sirius Patriot 144, and many standard news stations such as Fox News. For satellite radio, the political races could mean a wealth of advertising dollars hitting the coffers throughout 2008.
In the early hours this morning, the New Hampshire town Dixville Notch came out in support of Obama (D) and McCain (R), but as experienced political watchers know, there are not a lot of votes to be had in Dixville Notch. The community boasts 17 registered voters. Listeners can catch all of the political action in New Hampshire on Sirius. Sirius Buzz readers can comment on the events in the Sirius Buzz Forums Politics section.
Position - Long Sirius, Long XM