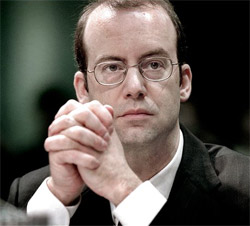 FCC Commissioner has withdrawn his original merger proposal offer from the table and cast a no vote on the deal. This leaves the decision on the shoulders of commissioner Tate, who will perhaps cast her deciding vote in very short order.
In a statement Adelstein said, ""I was hoping to forge a bipartisan solution that would offer consumers more diversity in programming, better price protection, greater choices among innovative devices and real competition with digital radio. Instead, it appears they're going to get a monopoly with window dressing. We missed a great opportunity to reach a bipartisan agreement that would have benefited the American people."
The Adelstein statement seems to indicate that he feels Tate will approve the deal with minimal added concessions.
Position - Long Sirius, XM