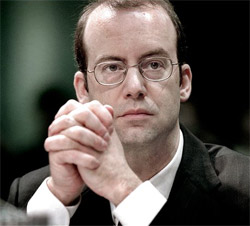 File this under "irony". FCC Commissioner Jonathan Adelstein will be a featured speaker at the upcoming NAB Radio Show from September 17-19 in Austin Texas. Adelstein is expected to address a number of regulatory issues facing radio broadcasters, including the FCC's localism proceeding, HD Radio and low-power FM. A couple of these issues had a high profile during the merger process of Sirius and XM.
Adelstein at one point seemed to be negotiating a way to approve the deal, but ultimately withdrew his offer when it was apparent that Tate would be the third and deciding vote in the merger approval process.
With his no vote, Adelstein likely preserved his "status" with the NAB, and one can imagine that Adelstein will be a central figure in the upcoming hearings regarding a combination SDARS and HD requirement. The FCC order left the issue open, and wants to look at this issue from both sides. Adelstein will likely be closer to the HD side in my opinion.
Though as a whole the FCC was unpersuaded that a case has been presented on the record of a merger-specific harm to HD Radio that would not be remedied by Sirius and XM's voluntary commitments and other conditions, the FCC believes important questions have been raised that warrant further examination in a separate proceeding. To this end, the Commission committed to initiating a notice of inquiry within 30 days from the adoption date of their Order to gather more information on issues including, but not limited to:
Whether HD Radio chips or any other audio technology should be included in all satellite radio receivers
Whether satellite radio capability or any other audio technology should be included in all HD Radio receivers
The cost to auto manufacturers of including HD Radio chips
The cost to radio manufacturers of including HD Radio chips
Consumer demand for HD radio
The amount and type of programming available on HD Radio today, and that projected to be available over the next 3 years
Whether the FCC has jurisdiction to mandate inclusion of HD Radio, satellite radio, or other audio technology.
While the merger is indeed complete, there are still aspects before the FCC that investors as well as consumers will want to keep tabs on. Stay tunes to SiriusBuzz for more information as it develops.
[NAB Press Release]
Position - Long SIRI