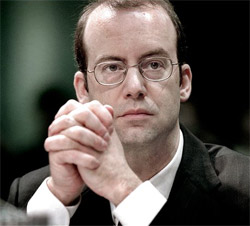 FCC Commissioner Adelstein has made statements that there is wiggle room in his position on the merger. According to Broadcasting and Cable, the democrat commissioner has indicated that he is willing to negotiate the terms that he outlined last week.
Adelstein said Monday at an annual Minority Media & Telecommunications Council conference in Washington, D.C., that his conditions were negotiable: "I am always open to discussion about what the best outcome is, so, it is not fixed in stone. I am certainly open to discussion"
Likely the largest stumbling block in Adelsteins proposal centers on the requirement to give up 25% of the spectrum. How far Adelstein is willing to negotiate is anyone's guess. In my opinion, Sirius and XM are likely concentrating on commissioner Tate, who many view as having a more favorable stance on the merger, and would by extension have fewer concessions.
Many feel that Tate will seek more stringent regulatory control rather than concessions such as a give-back of spectrum.
At this point we have the following:
Martin: YES
McDowell: YES
Tate: Undecided
Adelstein: Undecided
Copps: Undecided
Position: Long Sirius, XM.