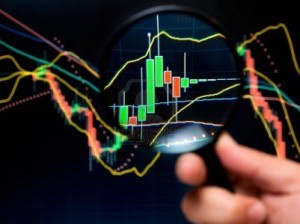 I told you all that options week can be wild and that is certainly what we saw today.  Tomorrow will be even more interesting as I expect this equity to flirt above $3.00 for the first time and build some excitement, nervousness, and anticipation related to options expiration.  The big question is what happens next.  In my opinion there are two courses of action.  The first is that SiriusXM will eclipse $3.00 and hold it.  The second is that the equity will retrace a bit to regroup and the excitement will build again going into the call at the end of the month.  If I had to place a bet on it today I would say that a slight retrace below $3.00 is in the cards.
The next week will be an interesting one for SiriusXM.  It is kind of a lull period before the show the following week.  Will the equity relax a bit or can it hold pressure and volume for two more weeks?  I believe that it will rest.  Now how much of a rest are we talking about?  The recent pattern has been kind of a three steps forward and one step back one.  The trading ranges are good for about a day and a half and then a new one establishes above.  Active traders can try to make a play here, but the problem is that the moves are not substantial, and if you miss you will be spinning your wheels.
I anticipate a peak tomorrow to entertain the options crowd, and then some challenges early next week followed by another build beginning Wednesday.  Of course, I do not have a crystal ball, but that is how things look at the moment.  Remember though… this is a DAILY process that requires monitoring.  Even intraday monitoring is recommended if you are an active trader.
Volume
It was Massive!  170 million shares went across the board.  That is a move on strength, and it can not be ignored.  In my opinion tomorrow will bring another high volume day.  Whether it matches today is yet to be seen, but it should be enough to test the waters above $3.00.  That is good news.  Today demonstrated a great example volume, strength, and reaction at certain prices that I have been writing about.  I had said to watch the volume and reaction when SIRI gets to key areas.  You could see the head fake in the morning and the equity bounce right off of $2.92 without even approaching $2.90.  Sounds stupid, but those couple of cents are meaningful.  We also saw this equity dip its toes above $2.95 yesterday.  As I always say, if it is willing to test it, it is willing to pass it.  The volume past $2.95 was substantial.  When the volume did begin to back off in early afternoon, we saw the price drop a bit, but bounce off of $289 in short order twice.  That was the pivotal point.  It ran right back up again.  Not though that there was a test below $2.90!

What we want to watch for is volume above 90 million shares tomorrow on a test of $3.00.   Any volume below that with a test of $3.00 will in my opinion be a signal that $3.00 is a crest, and a trip back to the 13 or 20 day average could be in the cards.  There is a lot of confirmation that we will need to see tomorrow.
Support and Resistance
There were some moves here as well.  The support and resistance levels are consolidating strength below, while the trading range continues to move up.  We now have a trading wide trading range of $2.85 to $3.05, and a narrower one between $2.90 and $3.00.  Recent behavior has been keeping to the tighter ranges.  This makes trading actively a challenge.  An active trader could have pulled in 8 cents today, but would have had to be very lucky to do it!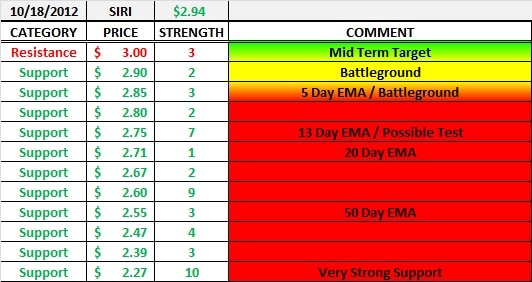 The key levels tomorrow are $2.90, $2.95, and $3.00.  Watch the volume at these levels closely.  I can see this equity hitting $3.03 or so during the day, but feel that is about the most we will see out of this equity tomorrow.
Exponential Moving Averages – EMA's
EMA's are still looking good.  For the benefit of new members, or review for longer term members, I will give a brief explanation of the concept of EMA's.  Essentially the EMA's represent moving averages of an equity over various periods of time.  For the most part these prices will form a channel that the equity will trade within.  Lately SiriusXM has bee trading above all EMA levels.  That means it is on a run.  When looking at the EMA chart we divide it into three categories:
Short Term – The 5 Day and 13 Day EMA's
Mid Term – The 20 Day EMA
Long Term – The 50 day EMA
When each successive price is higher than the next it is bullish.  If it is not, it is bearish.  By example, the 5 day EMA is above the 13 day so that is green (bullish).  The 13 day is above the 20 so that is bullish.  Thus the short term outlook is bullish.   As you can see, the chart is all green, and therefore all bullish.  We can gain hints from the EMA chart by watching it over a period of time.  For example, if the gaps between the prices start to narrow, it could be a sign that things are not quite as bullish as before.  If the trend continues it will become bearish.

As you can see, there is some healthy spreads between the levels in this chart.  This provides wiggle room.  An equity can actually close down, but still remain in a bullish trend.  Essentially SiriusXM could close as low as $2.79 tomorrow and the bullish signals would still be in tact.  The gaps between the EMA levels would begin to narrow though.
Summary
I see SiriusXM testing $3 in tomorrows action with a possible peak at $3.03.  I think that $2.90 is a key level and we want to see the equity bounce off of that level.  SIRI did test $2.89 twice, so we do not want to ignore that.  Basically that is where we have a caution flag.  Volume is key.  Tomorrow needs to be at 90 million shares to put any meaning behind any move.