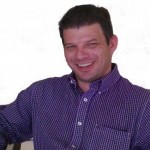 As we reported earlier today, there has been new information released in the Blessing vs. Sirius XM class action suit. The new filing gives preliminary approval to the proposed settlement, details information about how the class will be informed, and establishes a date for a hearing on the matter.
The new filing, linked to in our previous article, has some interesting details that investors in Sirius XM Satellite Radio (NASDAQ:SIRI) will want to know about. For example, one potential benefit from the suit is that the company will be able to get existing subscribers to "lock in" for a long term current rates prior to an anticipated increase in January of 2012. This would make perfect sense, and could potentially help fill Sirius XM's coffers with cash in the form of long term up front payments. However, it appears from the documentation that in order to lock these rates in a current subscriber would need to go to a special page (siriusxm.com/blessingclassaction - not active yet) on Sirius XM's website. Personally I believe that any current subscriber with the desire to lock in rates will be able to do so without having to jump through this hoop.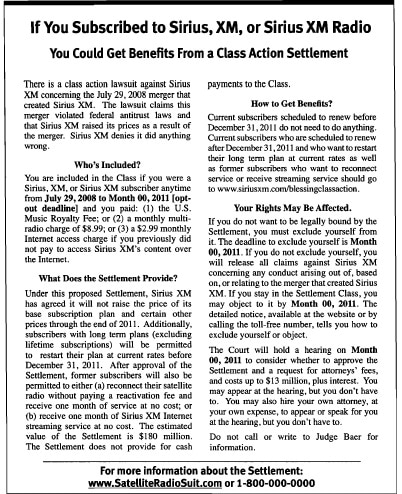 Sirius XM investors are a passionate bunch, and many may be inclined to opt out of the suit, or even object to it. While I am not an attorney and can not offer legal advise, these investors should consider a few things. First, think about what is happening here. A possible, not guaranteed, price increase is being pushed off by 5 months. This is not a big deal in terms of company performance. They will still likely meet all of their guidance for 2011. Second, the real cost to Sirius XM in cash is about $13 million. This is cheap insurance when you consider that the company will not be able to get sued for the royalty rate increases, family plan increases, etc., as this case resolves those issues from a legal standpoint. Simply stated, for the nominal charge of $13 million Sirius XM makes it difficult for other suits regarding the subject matter covered in this one to even get off the ground.
The last item to note is that a resolution in this case would possibly bring closure to the Fialkov matter filed in New York Supreme Court, which has a Stay order pending the results of the Blessing case. Ironically, the new Shenk case seems to mirror the Fialkov matter relatively closely, even in naming Sirius XM as a nominal defendant. Sirius XM has long listed the Fialkov matter as pending litigation against them, but due to the Stay, has not yet had to deal with it in great detail. In theory, if the Fialkov matter is resolved because of the proposed Blessing settlement, it would take a lot of wind out of the sails in the Shenk matter. If Sirius XM can resolve all three matters, and perhaps a few others, for the reasonable sum of $13 million, I would say they are getting pretty good bang for their buck.
Stay tuned to SiriusBuzz for more developments.
Position - Long Sirius XM Radio