The automobile, or Original Equipment Manufacturer (OEM), segment of satellite radio subscribers is perhaps the most often confused segment in this sector. Different manufacturers have different satellite radio deals, and to compound the issue the length of subscription terms also vary.
Some automobile contracts carry lower subsidies, some carry higher revenue share, some pay subscriptions up front during manufacture, some pay subscriptions when a consumer buys a car, some do not pay a subscription at all, some get a big revenue share long term, some get smaller revenue shares long term. It call all become very confusing very quickly. Especially when you try to draw comparisons.
Rather than taking convoluted steps to try to break down the OEM channel, and get into the nitty gritty of comparisons, why not break it all down into the metric that matters?
Dollars and Cash Flow. That it what matters when looking into this channel. The timing of counting subscribers matters little when you get down to dollars and cash flow. The more important questions are:
1. How much is the subsidy?
2. How fast can the company recoup the subsidy money invested?
3. How long can they keep the subscriber for more ad dollars?
4. How long is the opportunity to get the subscriber exposed to the service?
5. How does the deal impact cash flow?
6. Is the deal structured to allow deeper penetration?
7. What is the revenue share?
8. How can we structure an OEM deal to maximize other synergies such as customer care?
9. What impact does the deal structure have on ARPU, SAC, CPGA, Churn?
Looking at and thinking about these types of questions can give you an idea of the benefits and drawbacks of the various deals. Is it better to pay a lower subsidy now, but pay a higher revenue share later? Is it better to forego subscription revenue from the OEM now and minimize long term revenue share?
It is however inevitable that people will still try to extrapolate information and try to get a correlation for comparison purposes. It is only natural. Thus, we thought it prudent to provide a simple breakdown that in general terms outlines the various manufacturers, the typical terms, and at what point the radio in a car is counted as a subscriber. The basic foundation in the counting of subscribers boils down to a simple statement:
THOSE AUTOS FOR WHICH SDARS COMPANIES RECEIVE A SUBSCRIPTION PAYMENT FROM THE OEM ARE COUNTED AS SUBSCRIBERS. THOSE AUTOS FOR WHICH THE SDARS COMPANIES DO NOT RECEIVE A SUBSCRIPTION PAYMENT ARE NOT COUNTED AS SUBSCRIBERS.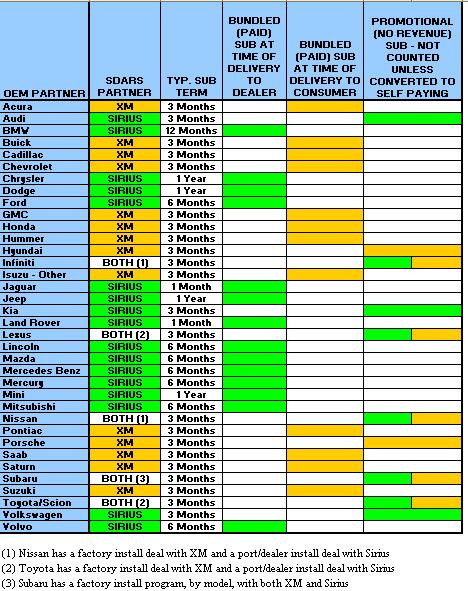 Position - Long Sirius, Long XM