July auto sales are now in and the month was quite positive. When all of the dust settled the SAAR for July was 11.98 million, only slightly lower than the 12 million estimate from Edmunds, and a bit below estimates bty JD Power and SiriusBuzz. The difference is not huge. Had another 30,000 or so vehicles sold, the SAAR could have reached the 12.2 million estimated by JD Power.
The main issue Sirius XM investors want to watch for is that the vehicle sales come in at around 1 million units each month. A pace of 1 million per month allows Sirius XM to report very positive metrics, demonstrate growth, and prove the viability of their business model. The other important issue for investors to understand is the mix of manufactures that sold cars compared to the overall number. The reason for this is that not all OEM deals are the same, and subscriber counts, churn, deferred revenue, and even cash flow can be impacted in differing ways depending on the OEM.
A unique feature of the SiriusBuzz report is that we break down the OEM numbers in detail separating out which manufactures fit into each of three categories. Those categories are: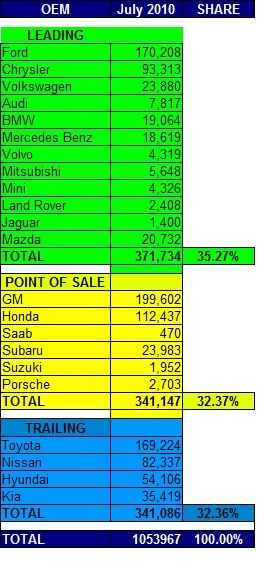 LEADING - These OEM deals deliver subscribers upon payment at the point of manufacture
POINT OF SALE - These OEM deals deliver subscribers at the time a vehicle is sold
TRAILING - These OEM manufacturers deliver subscriber only if they elect to become self paying after the promotional period.
In a perfect world Sirius XM would have a decent balance between these three categories. Balance helps maintain a steady pace without bias toward one direction or another. The good news in July is that the balance is getting better. Domestics took a hit on the chin due to lower fleet sales, while imports picked up their pace a bit. The Leading category is still the biggest share, but the gaps between the categories is closing.
For satellite radio, Q3 is off to a good start. July started things off ahead of the 1 million in sales, and the mix of OEM's is approaching a decent balance. The big question is whether or not some of the concerns over the auto channel slowing down again will happen. Sirius XM investors should think of July as delivering the coveted 1 million, with 50,000 cars sold in the bank to offset August just in case it is weaker.
Thus far the July SAAR is the highest of 2010.
Position - Long Sirius XM