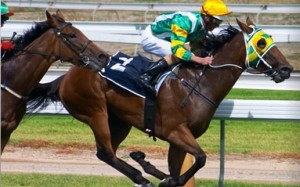 The Kentucky Derby will kick off Saturday, May 1, 2010 for the 136th time, and Sirius XM Radio has all of the coverage you need to check out the odds, and get the inside scoop about the fastest two minutes in sports. People have been arriving in Louisville for the last two weeks, donning their fancy hats and sipping mint juleps. Over 150,000 are expected to attend the event live.
Sirius XM will kick off the action at 1:00 PM ET with a Down The Stretch race preview show on Sirius 126 and XM 243. The action will continue live with coverage of the race on ESPN Radio's Sirius 120 and XM 140.
Do you have what it takes to pick a winner amongst the field of 20? Who will win, place, and show? Like the stock market, everyone has a method to picking the right horse. Is the favorite going to deliver, or will a long shot run their way to the roses? You can find all of that tomorrow.
While I am no horse racing expert, my picks are Stately Victor, Awesome Act, and Discreetly Mine. My long-shot pick is Make Music For Me. Who do you think will win?
The Field:
LOOKIN AT LUCKY - Trainer: Bob Baffert - Jockey: Garrett Gomez (3-1)
ICE BOX - Trainer: Nick Zito - Jockey: Jose Lezcano (10-1)
NOBLE'S PROMISE - Trainer: Kenny McPeek - Jockey: Willie Martinez (12-1)
SUPER SAVER - Trainer: Todd Pletcher - Jockey: Calvin Borel (15-1)
LINE OF DAVID- Trainer: John Sadler - Jockey: Rafael Bejarano (30-1)
STATELY VICTOR - Trainer: Michael Maker - Jockey: Alan Garcia (30-1)
AMERICAN LION - Trainer: Eoin Harty - Jockey: David Flores (30-1)
DEAN'S KITTEN - Trainer: Michael Maker - Jockey: Robby Albarado (50-1)
MAKE MUSIC FOR ME - Trainer: Alexis Barba - Jockey: Joel Rosario (50-1)
PADDY O'PRADO - Trainer: Dale Romans - Jockey: Kent Desormeaux (20-1)
DEVIL MAY CARE - Trainer: Todd Pletcher - Jockey: John Velazquez (10-1)
CONVEYANCE - Trainer: Bob Baffert - Jockey: Martin Garcia (12-1)
JACKSON BEND - Trainer: Nick Zito - Jockey: Mike Smith (15-1)
MISSION IMPAZIBLE - Trainer: Todd Pletcher - Jockey: Rajiv Maragh (20-1)
DISCREETLY MINE - Trainer: Todd Pletcher - Jockey: Javier Castellano ( 30-1)
AWESOME ACT - Trainer: Jeremy Noseda - Jockey: Julien Leparoux (10-1)
DUBLIN - Trainer: D. Wayne Lukas - Jockey: Terry Thompson (12-1)
BACKTALK - Trainer: Tom Amoss - Jockey: Miguel Mena (50-1)
HOMEBOYKRIS - Trainer: Richard Dutrow, Jr. - Jockey: Ramon Dominguez (50-1)
SIDNEY'S CANDY - Trainer: John Sadler - Jockey: Joe Talamo (5-1)