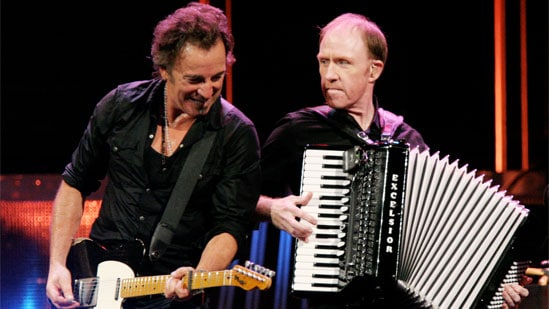 Sirius will broadcast a special tribute memorializing the life and musical career of E Street Band organist/accordionist Danny Federici by his longtime friend, rock journalist Dave Marsh.
Dave Marsh will host a two-hour special edition of his weekly show "Kick Out The Jams" in honor of Danny Federici, who passed away Thursday after a three year battle with melanoma. Dave will share his thoughts and memories of Federici's life and music on his show which will be simulcast this week on E Street Radio channel 10 and SIRIUS Disorder channel 70, Sunday, April 20 at 10 am ET.
This weekend, E Street Radio will play Danny Federici's final full performance with Bruce Springsteen and the E Street Band recorded at the Boston Garden on November 19, 2007. This very special fan based recording will air tonight, April 19th, and tomorrow, April 20th at 8 pm ET.
Dave Marsh sat down with Danny Federici in 2005 for a very personal and unique one-on-one interview, which will re-air on E Street Radio on Monday, April 21st at 4 pm ET.
For more information, please visit Sirius.com/estreetradio/
[AP Photo/Backstreets.com, Guy Aceto]