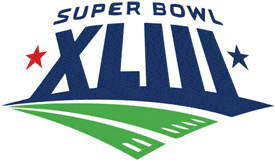 This coming Sunday Sirius and XM listeners will have access to 13 individual broadcasts of Super Bowl XLIII in a staggering 10 languages. In addition to the live game coverage listeners will also get to hear the entire halftime performance by Bruce Springsteen and the E Street Band live on E Street Radio.
We all know that Howard Stern turned down the chance to broadcast live from the upcoming even in Tampa but, if you are a fan of sports it should come as some consolation that Chris 'Mad Dog' Russo will in fact be in Tampa all week to host his daily show, Mad Dog Unleashed (Sirius ch.123, XM ch. 144).
In an interesting turn of events today, Bubba The Love Sponge announced that he would put on a free Bubbapalooza show in the city of the winning team in appreciation of his fans. Too bad for me that it wont be in the city of the team who beat the Arizona Cardinals 47-7 in week 16!
The full Sirius XM channel lineup is available after the jump...
Pittsburgh Steelers team broadcast - SIRIUS 122 / XM 143
Arizona Cardinals team broadcast - SIRIUS 123 / XM 144
Westwood One Radio broadcast - SIRIUS 124 / XM 124
Westwood One Spanish broadcast - SIRIUS 91 / XM 102
BBC Radio broadcast - SIRIUS 130 / XM 103
NTV Plus broadcast (Russian) - SIRIUS 125 / XM 104
France 2 broadcast (French) - SIRIUS 127 / XM 105
NHK Japan broadcast (Japanese) - SIRIUS 121 / XM 106
ARD broadcast (German) - SIRIUS 113 / XM 107
Telenet Belgium broadcast (Flemish) - SIRIUS 126 / XM 108
SMG broadcast (Mandarin Chinese) - SIRIUS 90 / XM 109
RAI broadcast (Italian) - SIRIUS 117 / XM 110
Sport1 broadcast (Hungarian) - SIRIUS 108 / XM 111