On one hand it is great news that Liberty Media (NASDAQ:LMCA) is helping to bolster the price on SiriusXM (NASDAQ:SIRI), but on the other, it is creating havoc with the technicals.  Oh well, such is life when you are invested in SiriusXM.  What has been created is a kind of artificial support.  I almost hesitate to call it that, because from a technical standpoint times like these actually become part of the technical data going forward.  The scary part is what transpires after Liberty has bought all they need to.  This begs the question of how many more shares Liberty needs, but that is another story altogether.
Volume
Volume was light, but currently that does not seem to matter.  Liberty Media appears to be buying in this range and holding technical lines as it does so.  We want to see a move on big volume, but it is becoming difficult to know whether the move is Liberty, or a market move.  We still need to watch volume closely, but big volume and light volume need to be taken with a grain of salt right now.
Remember, the key average volume we are looking for is something above 54 million shares.  While it is tempting to ignore volume right now, it is important to pay attention to it.  Liberty may have a very compelling reason for seeming to prop up the share price.  It seems that they do not want $2.50 to be broken.
Support and Resistance 
Support and resistance is probably the most interesting technical to watch right now.  Just two weeks ago support was all the way down at $2.40 and it appeared that SiriusXM was headed in that direction.  Thanks to Liberty, we now have the support level climbing upward, making for an interesting situation.  In addition, the resistance levels above are also gaining strength.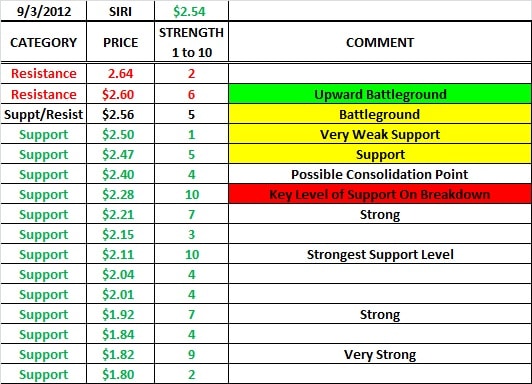 The good news is that support below the current level of $2.54 is getting stronger, and moving upward.  We now have a good support level at $2.47.  The bad news is that resistance at $2.56 and $2.60 are getting stronger as well.  This seems to be setting up a narrow trading range that at some point will need to be broken.  To the upside there is little resistance after $2.60.  To the downside we have strong support at $2.47, and the $2.40.  Which way this breaks will likely be determined by news, or lack of news.
Exponential Moving Averages EMA's
The EMA's are still bullish, and still giving a few caution signals we all want to watch.  SiriusXM is holding the line that prevents a bearish signal from developing, but we also the the gap between each successive average dropping as well.  The closing price sits right at the 5 day EMA.  If it falls below that would be bearish.  The 5 day is only 2 cents above the 13 day.  Again, if it falls below, it is a bearish signal.  The 13 day is only 5 cents above the 20, and the 20 day only 6 cents above the 50.  Things are getting very tight.

A while back I called $2.60 as the short term top for this equity.  Yes, there were a couple of spikes above, but I made the call based on what the technicals showed.  This is exactly why constant monitoring of the technicals is required if you are going to trade this equity.  I also stated that this equity would drift down to $2.40.  Again, it was the technicals that pointed to this happening.  We never tested $2.40, and quickly learned why.  Liberty Media is gobbling up shares and bolstering the price.  The good news is that if things shift to bearishness, that support is now approaching $2.50.  Just keep an eye on everything, because at some point Liberty will stop buying.