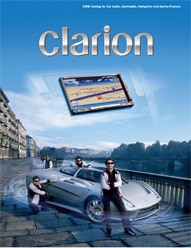 Clarion Corporation of America, a leading manufacturer of mobile electronics, announces that two of their key mobile multimedia source units now offer SIRIUS Satellite Radio direct connection.
Clarion's MAX385VD double DIN multimedia center offers SIRIUS direct connect where no black box or adapter cable is required. Simply plug in the SIRIUS tuner (SCC1) into these Clarion source units and you're good to go. The MAX385VD boasts a 6.5 inch monitor with touch panel control, MP3/ WMA playback, iPod audio control and iPod video playback with Clarion's USB iPod cable (CUIPOD1).
The MAX385VD's sleek 2-DIN design also features rear AUX input and 6 channel 2 volt RCA output to round off its already awesome system capabilities.
"We are very excited to introduce this new feature in 2008," says Ralf Engelbrecht, Senior Vice President of Retail Sales at Clarion Corporation of America. "The new Sirius direct connect feature increases the value of our products to customers by eliminating the need for for a translator box."
The VRX485VD 1-DIN AV Center has stylish cosmetics with intuitive user-friendly controls. It features a 7 inch flip-out monitor with touch panel control, MP3/ WMA and DivX video playback. It is iPod audio and video ready with Clarion's CUIPOD1 cable. The SIRIUS direct connect feature is achieved by simply connecting the SIRIUS SCC1 tuner and antenna with no additional cables or translator boxes required. It is that easy.
The MAX385VD and VRX485VD are both full-featured multimedia source units with similar cosmetic styling and comparable pricing, but the determining factor is single or double DIN preference.
A February 2008 consumer launch is planned for both the Clarion MAX385VD and VRX485VD multimedia systems.
Product features include:
MAX385VD (MSRP $599.99)
-2DIN AV Center
-6.5" Auto Sloping Motorized Touch Panel Control with Tilt Angle Adjustment
-MP3/WMA Playback
-SIRIUS Direct Connect
-iPod Audio Control/Video Playback (Via optional CCUIPOD1)
-Rear AUX Input
-1-A/V Input
-CCD Camera RCA Input
-45w x 4 Built-In Amplifier
-6ch/2V RCA Output
VRX485VD (MSRP $599.99)
-1DIN AV Center
-7" Flip-Out Monitor with Touch Panel Control
-MP3/WMA Playback
-SIRIUS Direct Connect
-iPod Audio Control/Video Playback (Via optional CCUIPOD1)
-Rear AUX Input
-1-A/V Input
-45w x 4 Built In Amplifier (TBD)
-6ch/2V RCA Output